upcoming special events at ryugen-ji temple

Samu Zazenkai
Date: Beginning Saturday July 9th

Cost: No Charge.
Beginning Saturday July 9th we will be holding a work zazenkai to prepare for the August sesshin. We need to finish the floor and altar in the ancestral room and the bamboo shades in the zendo. We also need to weed and remove the overgrown ferns in the courtyard. The schedule is:
9:00 zazen
9:30 kinhin
9:40 zazen
10:10 Service
10:30 work practice
12:00 lunch
1:00 - 6:00 work practice
6:00 dinner
8:00 zazen
8:30 kinhin
8:40 zazen
9:10 four vows
Sunday morning - normal schedule and time
Sesshin with Roshi Mitsunen Kyogen Nordstorm
date: Wednesday, August 3rd through Sunday, August 7th, 2016

Cost: $190.00 per person. Please note that Dana for Roshi is not included in the cost to attend sesshin. if possible, please bring cash for dana.
Special Event: During sesshin we will perform the eye opening ceremony, kaigen- kuyo, to officially rename the temple Ryugen-Ji.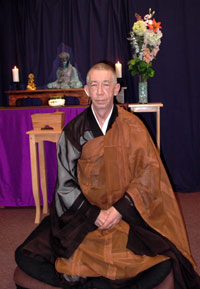 A Sesshin is a multiple day retreat in which we take time out of our busy lives to focus on our spiritual practice. We do multiple periods of zazen (seated meditation) with periods of kinhin (walking meditation) between. We also do samu (work practice) and chanting services. Our teacher, Roshi Lou Mitsunen Nordstrom, will give Dharma talks daily.
All participants will receive Dokusan (private interview) with Roshi.
Sleeping arrangements are dormitory style and all meals are included. You may arrange a hotel room if that is preferable (approx. 10 minutes away). For those who wish to stay at a nearby hotel, we have a list to choose from. Please let us know if you need the hotel list.
We have a limited number of cots and sleeping bags available on a first come basis. If you are bringing an air mattress, we kindly request no larger than twin size. Please bring your own blankets, linens/pillows, towels, toiletries etc. Our shower facilities are outdoors with hot and cold running water.
You may join us anytime your schedule allows, but it is highly recommended that you attend the entire sesshin to take advantage of this wonderful opportunity to deepen your practice in the warmth of the temple and the sangha.
Although you might think "I don't have to rsvp, they know I'm coming" please do so. It is important so suitable plans can be made.
Please RSVP if you plan to attend:
daigen.cj@gmail.com
zazenkais at kuge-in

A zazenkai, literally meaning "to come together for meditation" is a Zen Buddhist retreat that is usually less intensive and of shorter duration than sesshin.
Lunch and dinner are served on Saturday, and breakfast is served Sunday morning.
cost: $45.00 per person. please note that dana for roshi is not included in the cost to attend sesshin. if possible, please bring cash for dana.
upcoming zazenkai dates:
Early reservations are recommended. Please RSVP if you plan to attend:
daigen.cj@gmail.com
or
genjo.gallagher@gmail.com
.
sesshins at our sister temple, Hokori Zen Center in Lakeland, Florida

Please contact Greg Nikon Hicks at (863) 255-9735 or by email at Hokorizencenter@yahoo.com for information regarding sesshins at Hokori Zen Center.
Visit their website at
http://www.hokorizencenter.org/
.